Assalam Alikom wa rahmat ALLAAH
Hello
Everybody
Well

, I lanched a second blog called

Time Out

. This new blog has nothing with thoughts; rather it's just a space to place a smile upon your face. Therefore, there's nothing there except posting somethings to make everyone who visit there feel happy.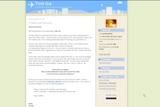 For sure, here @

Stairway to Heaven

is just my official + personal blog to publish my own thoughts, therefore you are always welcomed here.
Just make sure to read
About this blog
to know more about this new blog + some technical info regarding the posting there. They are very simple instructions, don't worry.
Anyway, when you feel you don't want to think about anything, simply do the following procedure:



Take a Time Out,

and visit my Time Out



I wish you all best in everything
and don't miss me in your supplications

Related Links
Salam,

Hicham
Tags @ Technorati:
Funny Videos
,
Free Videos
,
Time Out